Click here to learn more about what's up at Proviron. Find out about new products, our presence at fairs, our commitment to various initiatives and many other topics.
frequently recurring topics
what is toll manufacturing
what are plasticiers
safety on the plant
sustainability
…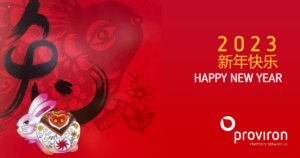 Happy New Year Lucky Rabbit On behalf of all our staff, we would like to convey our best wishes for the Chinese New Year.
Read More »
Let us shake our snow globe with you and wish you a prosperous and healthy year ahead.
Read More »
our journey of 45 years of chemistry proviron, around the world in 45 days On March 7, 1977, Leo Michiels founded Proviron. Four-and-a-half decades later,
Read More »